Senior Day Care: Low Cost – High Return
"How much does senior day care cost?" We get that question all the time. Certainly there are direct costs, which may be attractive, but there can also be a cost savings in terms of convenience or simply delaying the transition to skilled level therapy.
According to the National Adult Day Services Association (NADSA), adult day care annual costs are lower than Assisted Living, Home Care or Nursing Homes. The MetLife Mature Market Survey (2009) was based on 4,600 adult daycare locations nationwide, and compared the average annual costs to Home Care provided by both homemakers and home health aides and showed adult day services to be the most cost-effective option in long term care today.
Average Cost of Senior Day Care Compared
A 2015 Genworth Cost of Care Study estimates Home Care costs approximately $25 per hour for a Certified Nursing Assistant (CNA), making the cost of having someone in your home for 8 hours about $200. Compare the cost of spending the day at a senior day facility of $12 to $15 per hour (per hour median costs in Chicago, Naperville & Elgin) and the savings really add up!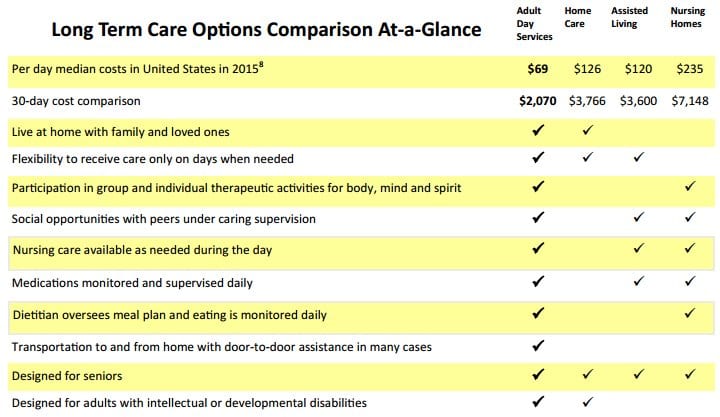 Benefits of Senior Day Care
Both senior day care and home care give loved ones the opportunity to live at home with family and loved ones. Adult day care is given in a facility that is designed for seniors' comfort and safety and staffed by experienced professionals such as a licensed physical therapist, registered nurse or occupational therapist. This allows a customized approach and individual therapeutic activities for body, mind and spirit.
Our nurse takes vitals every day and medications are monitored and supervised. Nursing care is available, as needed, during the day.
Our therapists have 55 years of combined geriatric rehabilitation experience, easily 300% to 1,000% more than a home care CNA.
Adult day services provide opportunities for your parent or spouse to participate in a variety of community activities and social opportunities with peers under caring supervision.
For more information on who we care for, click here.
Senior Care Facilities
Senior centers, like Naperville's new Senior Center, feature an indoor walking track, a performing arts center and access to the Internet in our Business Center. Bathrooms are designed to accommodate people with mild cognitive or physical disabilities and even a shower, washing machine and dryer, if needed. A full kitchen with professional equipment provides seniors with a hot healthy lunch, as well as health snacks. Our staff makes sure everyone is well hydrated. We provide transportation to and from home with door-to-door assistance.
Location
We built the Naperville Senior Center in 2014 to accommodate busy families. At Naperville Road and Ogden Avenue (next door to Butterfield's Restaurant) it is convenient for people heading to and from work or the train station. Whether you need a home away from home on a daily basis while you work along the 1-88 Tech Corridor, off Diehl Road or in any of the western suburbs or 'as-needed,' you'll benefit from our convenient location.
HR managers actually recommend us because it reduces employee stress & absenteeism and improves productivity!
And if you simply need a day off or "caregiver respite," Mario Tricocci Spa and Salon is just across the parking lot and there are plenty of restaurants and shopping within just a few miles. Take time for you!
Senior Day Care: Your most affordable, safest and best option.
So consider us not just for the direct costs of adult day care, which are superior to your other options, but also what you save in time and money getting your loved one out of the house and into a safe, secure and social environment. You get peace of mind.
Are you ready to see it yourself? Call Mike Cooper at (630) 857-3017.
There is no obligation but the benefits can make a very big impact on you, your loved one and your family.