Your Guide to Recovery, Maintenance
& Quality of Life
Caregiver Respite – Safe Environment – Socialization – Physical Therapy – Peace of Mind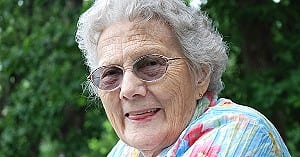 As a caregiver, you want what's best for your loved one. It's a big responsibility! Both of you have needs, but how do you meet them safely, happily and affordably?
Build strength, balance & stamina.
Make sure they are safe.
Stay out of the hospital.
This guide will show you how.
Recovering, maintaining or improving your loved one's quality of life properly takes an experienced staff, state-of-the-art facilities and a customized approach. No two people are alike. Their needs, preferences and conditions are all unique.
Leaving them home to fend for themselves is not often a good option. Whether their needs are neurological or physical, having someone to monitor and assist them, preventing falls, making meals, d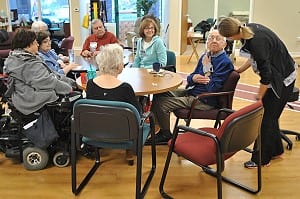 ispensing meds and taking vitals is important.
Sometimes they just need to get out and socialize.
Their need for attention, assistance or support may last a couple of weeks…or a lifetime.
Their caregivers may need attention, assistance or support for the same amount of time. Sometimes they need more than their loved one.
Sometimes all it takes is a day or two a week. Sometimes more.
There are only so many hours in a day. The boss may only have so much patience. Caregivers need time for their careers and other family responsibilities. There will be good days. And bad.
What Are Your Options?
That depends on the specific needs of your loved one. We have collected all the information you need on this page.
The road to recovery leads to many benefits including the happiness of everyone involved.
From the blog: How to Find Adult Day Care Services
Cognitive & Neurological Care
Many of our Members suffer from dementia and leaving your loved one at home 40 hours a week can put them at risk. Our facility was designed with their needs in mind. Our staff of nurses, therapists and activities counselors are supportive and patient while taking a very personalized approach.
Stroke is one of the leading causes of death and the number one cause of disabilities among adults in the United States. Accordingly, using senior daycare services helps Members regain or improve their ability to walk safely, maintain good posture, get dressed and bathe, prepare meals and do simple chores at home.
Other Members suffer from arthritis.
Physical & Orthopedic Care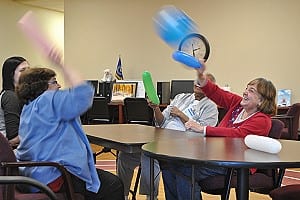 Exercise such as making the bed or enjoying hobbies improve mood and balance and lower stress. Physical activity helps build strength and improve the health of bones and muscles, which reduces the odds of a fall.
Supervised activity can be fun while improving endurance and heart health. Playing with balloons or a parachute is a good cardio workout for seniors.
Start slow and don't overdo it.
Post Hospital Recovery
Patients who get post-hospital services tend to do better than those who don't, and usually enjoy lower re-hospitalization rates.
At least one in three hospital patients are are referred to post-discharge services. Their recovery needs may require the skilled services of a nurse or physical therapist or maybe just a couple of days a week with the activity director.
When recovering from surgeries, such as hip or knee replacements, cardiac conditions and wound debridements, the use of post-hospital recovery services is essential.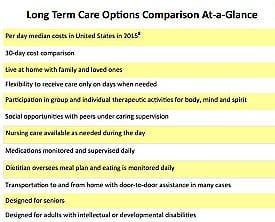 Nationally, about 1 in 4 hospital patients are re-admitted. Our approach is to assess our Members initially so that we have a complete understanding of their condition, needs and preferences, as well as those of their caregivers. We monitor them regularly, including taking vital signs during every visit.
We watch for warning signs and counsel Members, caregivers and other family, as needed.
And we boost their spirit and mood with attentive and respectful care and great activities. Click here for more about activities.
Caregiver Respite
We've talked about what's in it for the Member, but what about you? Life is hard enough without the responsibility of taking care of a loved one while trying to be a good parent, spouse, son or daughter.
If you have a job or community responsibilities, you have even less time.
And more anxiety & stress.
You deserve a break today!
You need support.
You need resources.
You need to do this.
This is NOT Adult Baby Sitting
Senior daycare is more affordable than you might expect. It is actually cheaper than a baby sitter, and with a staff of nurses, therapists and assistants, it is the best post-hospital option for your loved one.
What does senior daycare cost? Click here to compare options. Then call Mike Cooper to schedule a complimentary visit where you'll meet the staff, play some games, get a little exercise and enjoy a delicious hot lunch. 630 857-3017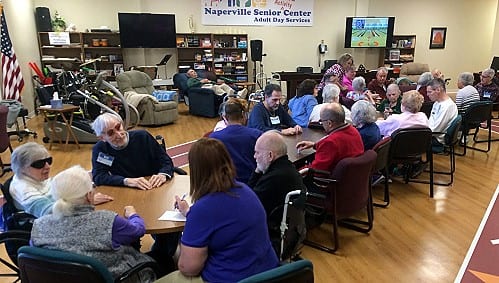 Getting to Know the Naperville Senior Center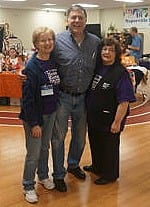 We try to answer as many questions as we can online. We have pictures of our new facility on our About Us page. There is also information on how many days a week Members tend to use our facilities, which may be different based on needs. We also have a graph showing which activities our Members participate in.
Our members have a variety of conditions, including dementia, hypertension/high blood pressure, physical disabilities, cardiovascular disease and diabetes. Learn more about our ideal Members and see if you are a good fit by clicking here.
Caregivers usually have many questions and we try and answer them on our Frequently Asked Questions page, but we're here to serve you and your family. Time is precious. Contact Mike Cooper today with specific questions or needs. He and his wife Pam love to help.
Ask about our Free Trial Offer, which is available for a limited time.
Our Team (and our family) & Facility Are Here for You
Members and their families find support and respite at the Naperville Senior Center. We provide counseling and education on a regular basis. We work with the entire family on developing a customized care plan so that everyone's needs are met.
To get started, please complete the Intake Packet at your convenience. Then call Mike (630) 857-3017. Take advantage of the Free Trial Offer!
You May Also Like
3 Ways to Communicate With a Senior Loved One 
8 Ways to Regain Control of Your Life
3 Ways to Be a Better Self-Caregiver
5 Lessons for Caregivers of Seniors
Setting Boundaries with Your Senior Loved One
Caregiver Respite: Are you thriving or just surviving?
Caregivers Need Time to Focus on Family and Career