Adult Day Services | Senior Activity Center
Caregiver Respite – Safe Environment – Socialization – Physical Therapy – Peace of Mind

 Helping Families with Seniors
Our new state-of-the-art senior activity center is open weekdays from 7:30am to 6:00pm serving adults with mild cognitive or physical disabilities. Our nurses and physical therapists help build or maintain strength, balance and mobility in a safe, secure and friendly environment.
All activities are designed to help our Members, including the scheduling plenty of rest periods. Click here for more about our activities.
Full and half-day options are available and we can work with you on the schedule that works best for your situation.
Home Away From Home
How often do seniors attend adult day services?
According to the National Adult Day Services Association, nearly half of members across the nation participate 5 days a week. (46%) But we can accommodate any weekday schedule you like!
Call Mike Cooper to schedule a tour and to answer any questions. (630) 857-3017. There is no obligation.
Senior Activity Center
Our Members come from all over Chicago's westerns suburbs, including Naperville, Aurora, Lisle, Downers Grove, Bolingbrook and even Joliet! On April 30, 2017, we had Members from 17 communities, including 24 Members from outside Naperville.
They all have a variety of needs, including delaying nursing home placement. Their families all want to enhance their overall quality of life.
Many of our Members want to maintain flexibility and mobility, so we concentrate on walking. Nationally, the #1 daily activity is walking 95% of the time.
Some Members need the help of a nurse, so we take vitals every day. Some Members need post-hospital care or IV therapy.
Other members include…
Adults who enjoy participating in community activities
Adults who need just a little assistance
Adults whose family caregivers need help
Adults who feel depressed or isolated
Adults who need help with continence, medications and meals
Adults who are seeking to regain dignity and self-respect
Call Mike Cooper at (630) 857-3017 for more information or a free trial. Includes lunch for both the future Member and caregiver.
Home Away From Home Video
Naperville Senior Center Adult Day Services was established in 2014 and opened our doors to a brand-new state-of-the-art facility in March, 2015. The experience and knowledge covers over 56 years of health care experience. Our Center meets or exceeds all state and local requirements.
Come in For a Tour or Free Trial
Seniors often need a few days to acclimate to Adult Day Services. We offer several ways to introduce your loved one to our activities center, including a test drive for free and that includes a delicious hot lunch for both the senior and the caregiver. Click here for more about our Free Trial Offer!
Take a look at what our brand new state-of-the-art facility has to offer!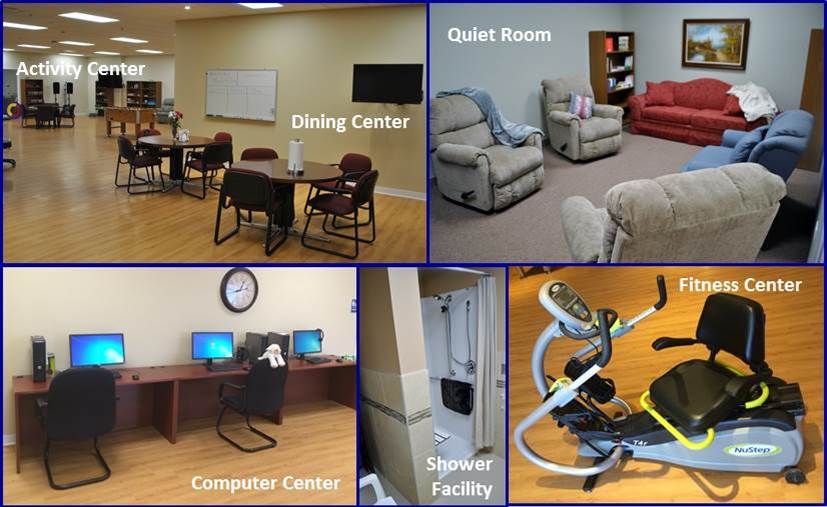 The Naperville Senior Center Team includes:
Executive Director: Pam Cooper, Registered Physical Therapist
Activity Coordinators: Starla Snead, Cindy Warner
Business Director: Mike Cooper
Member Services | Certified Nursing Assistant: Michelle Juarez
Part time staff:
Certified Nursing Assistants:

Janet Sudol
Destiny Williams
Ralph Brann
Jenn Mondalvo
Brianna Cooper
Activity Assistant | Certified Nursing Assistant: Courtney Sutherland
Caring Volunteers: Mary Beth, Laurie, Aida, Tim, John, Mary Ellen, Pat, Marva, Norma, Elaine, Nancy, Zach, Emily and more…
All of our professional staff are certified in CPR and First Aid.
Learn more by calling Mike Cooper at (630) 857-3017.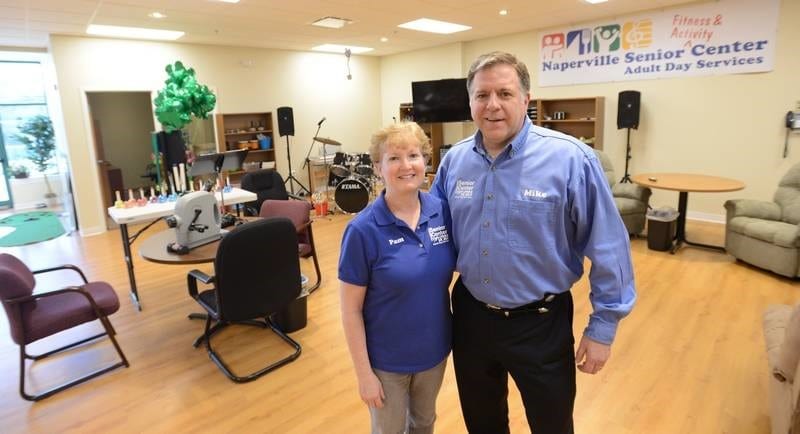 Pam and Mike Cooper welcome you!