At any age, exercise is important part of a healthy life. But it is even more important as adults get older. Even with all of the studies showing that consistent physical activity  is proven to enhance longevity and the quality of life for people of all ages, over 85% of adults are either not regularly active or not active at all!
Exercise can help prevent heart disease and osteoporosis, among others. According to research from the University of Wisconsin School of Medicine and Public Health, physical activity, including exercise, can slow the changes in the brain associated with Alzheimer's disease. Those adults in who exercised 5 times a week did better on cognitive tests and had less age-related changes to the brain that are associated with Alzheimer's.
Below are 4 types of exercise that can help prevent a variety of age-related health issues.*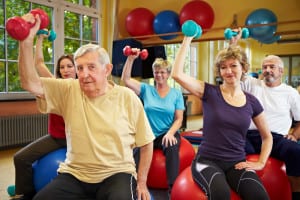 Cardio – this includes activities like walking, swimming, biking, or just doing housework. Any activity that increases your heart rate for an extended period of time can improve your heart health and help you lose weight by increasing your metabolism.
Strength – build muscle and increase your metabolism by lifting light weights.
Balance – can help prevent falls and other accidents by building leg muscles and making older adults more stable on their feet.
Stretching –stretching allows you to increase your flexibility and improve your freedom of movement. This will help you stay more independent in your senior years.
(*Remember, you should always talk with your physician before starting any exercise regimen.)
You can't control your age, but you can control how well you age. Start exercising now so you can age gracefully!
Contact us to schedule a FREE 3-hour trial at our facility so you can see what we have to offer and understand the Naperville Senior Center experience, Home Away From Home.
Would you like more information about how Naperville Senior Center can provide your loved ones with the warmth, care and comforts of home for just the day? Click here to keep informed by joining our mailing list.